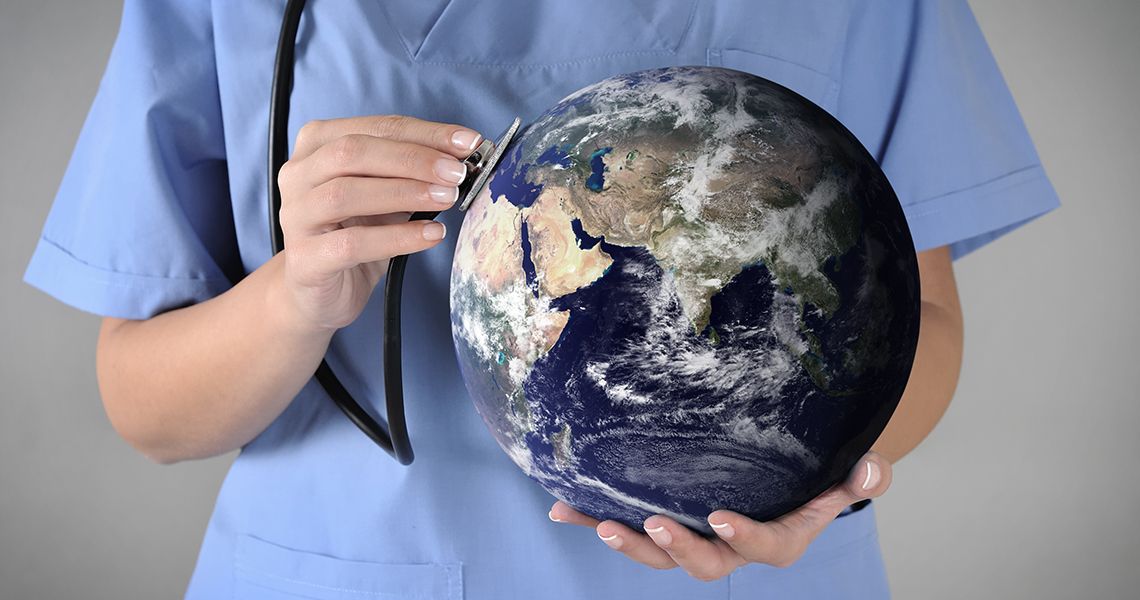 The Global Health Track is designed to increase students' awareness about international health systems, global diseases and assessment techniques for the specific health needs of countries at various stages of development.
Program Objectives:
At the completion of this track, students will be able to:
Gain a basic understanding of the relationship between demographics indicators to health and disease
Gain knowledge of various global diseases
Gain an introduction to the study of community and public health, primary care, health care for the underserved, epidemiology, as well as infectious and tropical diseases all over the world
Provide international experiences and training that expose students to diverse cultures and broaden their cultural perspectives
Learn how to communicate more effectively with the increasingly diverse patient populations students work with in the U.S.
---
Meet Your Global Health Director
---
---
Program Activities
Required First & Second Year
Attend lecture series
Participate in an 8-week Experiential Opportunity in the summer following first year

Students must submit a project proposal including scope of work, a timeline, objectives/goals, and the organization/on-site mentor with which the student will be working, including contact information. Project must be approved by Scholarly Concentration Director prior to student departure from the U.S.
Project to be completed abroad for a period of 8 weeks during the summer between first and second years
After project completion, students are required to submit a 4-6 page paper to include the student's project scope, the role the student played in the project, any unexpected outcomes, and reflections on the experience
Required Third & Fourth Year
Scholarly Project will be related to Global Health
Other Activities
Publishing opportunities through working with track mentors 
Global Health workshops, seminars and conferences at IAD, PAHO and/or the World Bank
Special interest groups, such as Books without Borders, Global Health Group, Physicians for Peace student chapter, etc.
Medical Mission Trips to Haiti held each March and July
Surgical Mission trips with Operation Heartbeat
Lecture Series
Topic Areas for Years I & II (sampling)
Human rights:

UN Declaration of the Human Rights
The framework of Health and Human Rights
Ethics and human right: history of physicians in human rights protection and abuses
Law and human rights

Social determinants of health:

Basic economics and health
Poverty and health
Income inequality and health
Gender issues

Policy, trade, and health:

WHO, UNAIDS
WTO, World Bank, IMF, GATT, TRIPS, trade agreements
NGOs
Governments

Global burden of disease:

Water, nutrition, and child health
HIV/AIDS/TB
Infectious diseases
Non-communicable diseases, injuries and violence
Measuring population health

Health care delivery systems:

Western healthcare  models: insurance, payers, individual care
Community-based care
Participation and empowerment
Access to care and health: evidence-based research
Healthcare workforce
Public health model: vaccination, eradication, population approaches

The environment and health:

Natural disasters and disaster relief
Man-made disasters: global conflict, war, refugees, global toxin burden
Migration, travel, global interaction: epidemics, immigration impacts on global disease
Where to Find Information
*Other educational opportunities and activities to enrich students' experiences may be added to the curriculum during the program, per the discretion of the Scholarly Concentration Director
Syllabus Reading List
Reading List: check with course director on the most updated list.
Global Health 101, 2nd edition, By Richard Skolnik.
Essentials of Global Health, Second Edition. By Richard Skolnik
Awakening Hippocrates A Primer on Health, Poverty, and Global Service. Edward O'Neil, Jr, MD.  2006.
A Practical Guide to Global Health Service. By Edward O'Neil, Jr, MD. 2006.
Green Parrots:  A War Surgeon's Diary.  By G. Strada, 2005.
Mountains Beyond Mountains: The Quest of Dr. Paul Farmer, a Man Who Would Cure the World.  By Tracy Kidder.
Pathologies of Power: Health, Human Rights, and the New War on the Poor. By Paul Farmer
AIDS and Accusation: Haiti and the Geography of Blame (Comparative Studies of Health Systems and Medical Care). By Paul Farmer
Investing In Development: A Practical Plan To Achieve The Millennium Development Goals.  By Jeffrey Sachs
The Oath: A Surgeon Under Fire. By Khassan Baiev
The Spirit Catches You and You Fall Down. By Anne Fadiman
The Invisible People; How the U.S. Has Slept Through the Global AIDS Pandemic, the Greatest Humanitarian Catastrophe of Our Time. By Greg Behrman
Human Rights in the World Community: Issues and Actions.  By Richard P. Claude, Burns H. Weston
Human Rights and Choice in Poverty: Food Insecurity, Dependency, and Human Rights-Based Development Aid for the Third World Rural Poor. By Alan G. Smith
Sickness and Wealth: The Corporate Assault on Global Health. By Meredith Fort, Mary Anne Mercer and Oscar Gish
Infections and Inequalities: The Modern Plagues, Updated Edition With a New Preface. by Paul Farmer
The Uses of Haiti. Updated Edition by Paul Farmer