Meet the Directors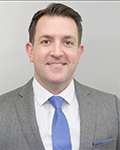 James Phillips, M.D.
Assistant Professor of Emergency Medicine
Scholarly Concentration Director
James Phillips, MD, is a board certified Emergency Medicine physician currently an Assistant Professor of Emergency Medicine at George Washington University Hospital, and serves as the section Chief of Emergency Preparedness and the Co-Director of the Disaster Medicine Scholarly Concentration.
Dr. Phillips lectures and researches several topics, most notably Healthcare Workplace Violence, Disaster and Counterterrorism Medicine, and Tactical (SWAT) Medicine. His most recent paper, Workplace Violence Against Healthcare Workers in the United States, was published in April 2016 in the New England Journal of Medicine. He is a 2014 graduate of the Harvard Disaster Medicine and Emergency Management Fellowship, and was the first Director of Counterterrorism Medicine as faculty in that Fellowship. He functioned as a Tactical Physician for the MA State Police SWAT Team for three years. In 2017 he was selected as a Fellow in the Emerging Leaders in Biosecurity Initiative at the Center for Health Security in the Johns Hopkins School of Public Health.  
Dr. Phillips was trained in Plastic and Reconstructive Surgery at the University of Michigan followed by an Emergency Medicine residency in Chicago where he served as chief resident and was awarded as the Outstanding Resident Researcher. He graduated as a Top Ten Senior from Oklahoma State University with a dual bachelor's degree in microbiology and molecular genetics before matriculating to the University of Oklahoma College of Medicine. 
Dr.Phillips's interests include disaster medicine, tactical medicine, and the role of medicine in counterterrorism. He has recently authored textbook chapters on Active Shooter Response, Improvised Explosive Devices, Structure Fires, and medical treatment of hostages.
Andrew Garrett, MD, MPH  

Assistant Professor of Emergency Medicine
Scholarly Concentration Director
Andrew Garrett, MD, MPH is the academic section chief for Emergency Health Operations and is an associate professor at George Washington University's School for Medicine and Health Sciences. His medical specialties are pediatrics, as well as EMS and disaster medicine. He is also board certified in these areas.
Dr. Garrett has over 15 years of leadership experience with the federal disaster response community and has spent much of his career with the Department of Health and Human Services (HHS) as the chief medical officer and then director of the National Disaster Medical System (NDMS), overseeing a system of nearly 7,000 federal employees and over 80 medical, veterinary, and mass fatality disaster response teams. He also spent two years at the White House, most recently as the director for Biodefense and Medical Preparedness on the National Security Council. He has also served as the senior medical adviser to the HHS Assistant Secretary for Preparedness and Response (ASPR) focusing on areas of national health security.
He has deployed both domestically and internationally to over 20 major disasters and public health emergencies, as both a clinical provider and as the chief medical officer to the federal government's Health and Public Health Incident command structure.